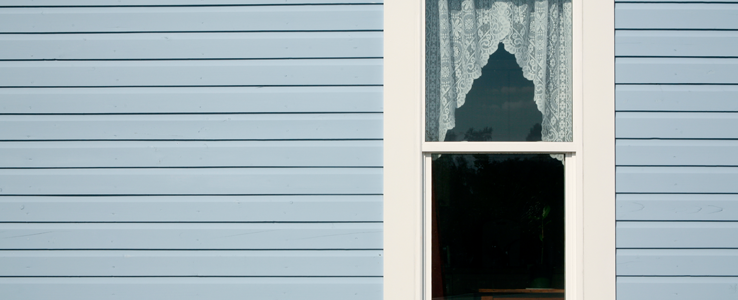 No paint, no stain, no hassle. Today's vinyl sidings come in a multitude of clapboard profiles, or decorator "Cedar Shake" styles. Some products come pre-insulated for additional energy savings. The major manufacturers offer a vast palette of colors, from bold deeper shades, classic earth tone blends, or light pastels.
Also unlike other siding materials, should the worst happen, vinyl siding is easy and inexpensive to repair. We are available to meet at your home, or call us to arrange a visit to our Berwyn showroom, and we can show you the possibilities.
Just need fascia trim & overhang capping?
Even if you have a masonry home or already have maintenance free siding, you may still have exposed wood trim and overhangs, that require repeated painting and care. You can eliminate this work by capping the fascia boards and covering the soffit overhangs. Detailed capping can look very much like the original wood, is available in a wide array of colors, and will never need paint. Soffit overhangs can be covered with vinyl soffit material, and when properly vented, can help with attic ventilation. Ask us for details.
Just need gutters and spouts?
Efficient and correctly sloped gutter systems on your home assist in water management and prevent damage from water infiltration. This can help you prevent mold, exterior wood deterioration, or damage to foundations and landscaping. We can install HEAVY GAUGE SEAMLESS ALUMINUM gutters in two sizes, a variety of colors, and necessary downspouts to complete the system.
Contact us at 610-296-4040 to arrange for a Free Estimate, or to make an appointment to visit our showroom at 34 Bridge Ave., Berwyn PA.
See our photo gallery of siding projects